Automation Kit with REXYGEN Plus Runtime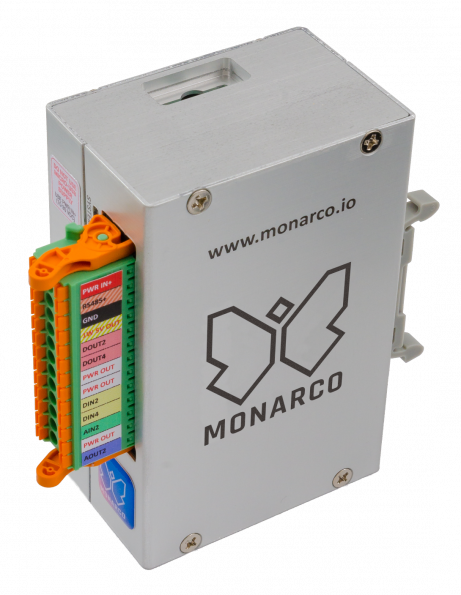 1

Monarco HAT

Add-on board for the Single Board Computer

2

Single Board Computer

Raspberry Pi 3B+, 1 GB RAM, 1.4 GHz 64-bit quad-core CPU / Raspberry Pi 4B, 2 GB RAM, 1.5 GHz 64-bit quad-core CPU / ASUS Tinker Board S R2.0, 2 GB RAM, 1.8 GHz 64-bit quad-core CPU, 16 GB eMMC

3

Aluminium case

Aluminium case for DIN-rail mounting

4

Preinstalled actual OS

Kits with Raspberry Pi come with a 16 GB SD card preinstalled. Tinker Board has on-board eMMC memory, so everything is preinstalled directly in the Tinker Board. Flashed with the official up-to-date OS and REXYGEN runtime modules installed.

5

REXYGEN Plus Runtime

Runtime core of REXYGEN (RexCore), installed and activated, ready for use

6

Assembly material

All spacers, screws and bolts are included, no additional material is needed.
Everything is installed and ready for use
You just provide 10-30 VDC power and you are ready to go!